Deryan Bedtent - 200x90cm Sky Blue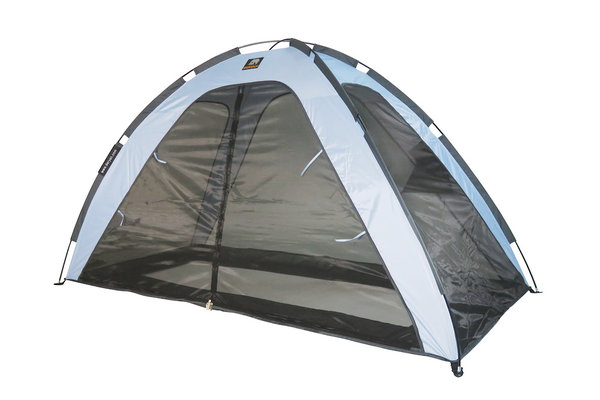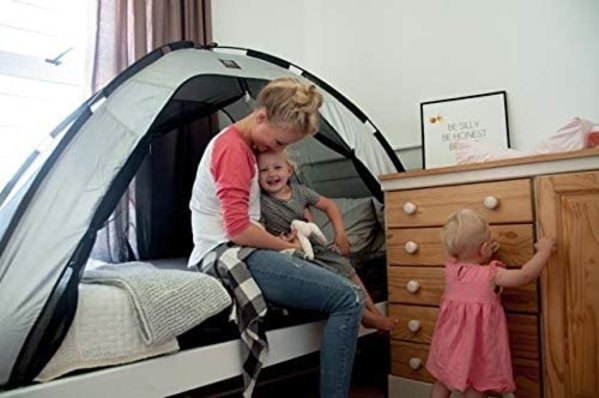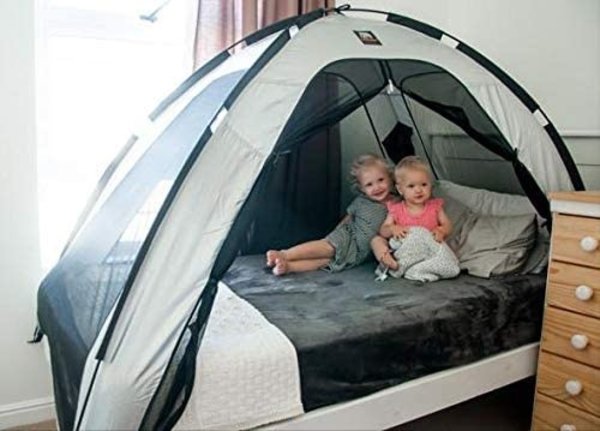 Product description
The DERYAN Bedtent is a compact mosquito net, which effectively protects you against mosquitoes and other biting insects, so that you and/or your little one can enjoy an undisturbed night's sleep. The bed tent or mosquito net consists of exceptionally finely crafted mesh; Due to the special fabrication, the DERYAN Bedtent contains the highest quality mesh on the market! Setting up is child's play with the standard supplied bed tent poles, made of the strongest fiberglass.
Benefits:
✔  Sturdy framework
✔</span >  Compact & lightweight
✔  Mesh thinner than 1 mm
The mattress can be placed in the tent from the side without causing a lot of hassle and shifting. The DERYAN bed tent or mosquito net is also ideal for holidays; it takes up little space during travel and ensures an undisturbed night's sleep. In addition to the practical part, it offers children ultimate fun to play with!

The product specifications at a glance:
Contents: Bed tent, bed tent poles and carrying bag
Material: Polyester, mesh
Weight: 0.8 kg
Mesh density: < 1mm
Dimensions folded (l x w x h): 45 cm x 12 cm x 9 cm
Dimensions unfolded (l x w x h): 200 cm x 90 cm x 100 cm
Features: suitable for adults and children from 2.5 years
Reviews
Posted by: Mathieu on 1 July 2021

Makkelijk op te stellen en te gebruiken

Posted by: Bram on 1 July 2021

Super handing tegen de muggen! De kinderen vinden het cool

Posted by: Pieter on 1 July 2021

Ik ben zeer tevreden over dit babyartikel. Wat ik vooral goed vind: Handig in gebruik, Fraai design, Comfortabel voor mijn kind

Posted by: Anna on 1 July 2021

Mooie kwaliteit tent. Makkelijk in elkaar te ztten. Fantastisch tegen muggen. ( en handig tegen het uit bed vallen)

Posted by: Hannah on 1 July 2021

Wij gebruiken deze bedient al jaren voor onze dochter met verstandelijke beperking. Thuis heeft zij een afsluitbaar hoog/laag bed. Dit bed is ideaal te gebruiken om te logeren of voor op vakantie.

Posted by: Tineke on 1 July 2021

Onze zoon heeft een muggen allergie, hij moest dan altijd allergie drankjes, dit is super. Hij kan zich er niet in vast rollen dus geen stikking gevaar matras erin wel altijd dicht ritsen en geen mug kan hem meer plagen.

Posted by: Kim on 1 July 2021

Super fijn tentje, makkelijk op te zetten. Handig mee tr nemen in klein tasje. Wij hebben hem gebruikt op vakantie. Goede kwaliteit. Bestand tegen onze kleuters!

Posted by: Lika on 1 July 2021

Leuk artikel! Zowel praktisch (tegen muggen) als om rustig geborgen in te slapen én als speeltent.

Posted by: Elise on 1 July 2021

Geen muggenbulten meer! Goede prijs-kwaliteitverhouding. Kinderen vinden het fantastisch. Kunnen er makkelijk zelf uitkomen. Makkelijk op te zetten en weer op te ruimen en eventueel mee te nemen.
Create your own review