Joovy Boob Baby Bottle - Newborn Starter Set 0M to 12M - Gift Set Standard Bottle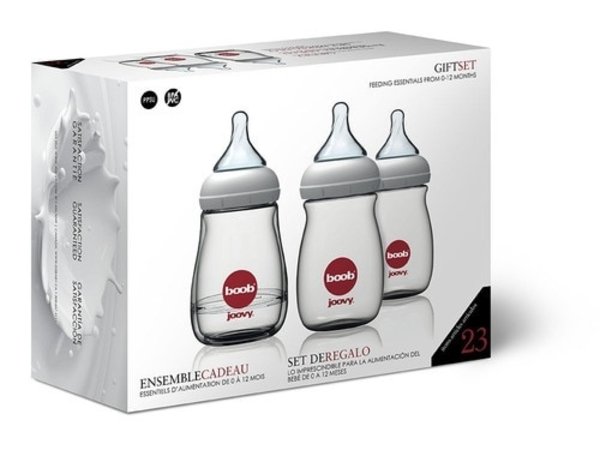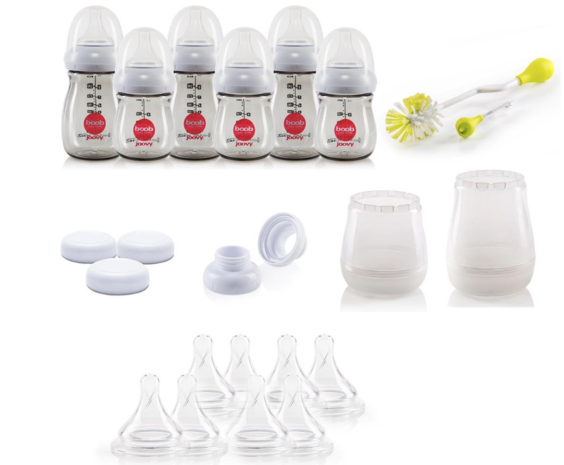 Product description
The Joovy Boob is the most innovative baby bottle on the market. This Boob PPSU Gift Set Includes: 260ml PPSU Bottles of Stage 2 Nipple Forms, 260ml Isolator, 160ml PPSU Bottles of Phase 1 Nipple Forms, 160ml Isolator, Breast Pump Adapters, Sealing Caps, Phase 0 Nipple Forms, Phase 1 Nipple Forms, Phase 2 Nipple Forms, Phase 3 Nipple Forms, phase X nipple shapes, nipple brush and bottle brush. The PPSU material withstands repeated sterilization and will not absorb odor or color. All items in this set are BPA and PVC free. Gift the Boob PPSU Set to someone!


Everything you need to start bottle feeding. Thanks to our Ultra-premium PPSU baby bottle that does not absorb odor or color and can withstand repeated sterilization (BPA and PVC free)
No matter what angle the bottle is held at, the baby still won't get air bubbles thanks our easy-to-use, colic-resistant design. The 1-Piece Clean Flow Deaerator is easy to clean, prevents leaks, reduces colic and ensures consistent fluid flow.
A wide nipple shape makes the Boob bottles perfect for both breastfed and breastfed babies. bottle feeding.
Includes breast pump adapters that work with the best pumps. The well-insulated bottles help ensure that liquids stay warm or cold. The baby bottle is also transparent, so you can easily see through it. And with our Sealing caps you can store and freeze breast milk or other liquids directly in bottles.
Assorted nipple shapes with different flows. Choose from five different nipple shapes for the flow that's perfect for your baby's age and stage.
Reviews
Posted by: patricia on 4 February 2021

echt top! ook heel makkelijk schoon te maken

Posted by: Anouk on 29 January 2021

Uitgebreide set!

Posted by: Jamie on 29 January 2021

Alles wat je nodig hebt zit erin!
Create your own review